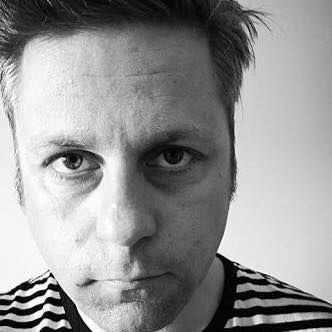 "One of this country's most underrated songwriters, Danny McDonald makes the kind of music which, if listened to on a Monday, will put a smile on your face for the rest of the week. Beautiful, sunshiny guitar pop" – Danielle O'Donohue, Herald Sun
Danny McDonald has writing, recording and publishing songs for around three decades.
He's released, played on, helped write, recorded or appeared on over 80 CD, vinyl and digital records both as a solo artist and alongside a growing list of well-known Australian artists. He began recording and touring under his own name in 2002 and was also a member of legendary Melbourne guitar pop band Little Murders.
Danny was also a member of Melbourne guitar pop bands Oscarlima and Jericho in the mid to late 90's before achieving global acclaim with his 'Into the sun' album (2001), released under the 'P76' pseudonym.
He lives and works in Gippsland, Victoria.
Danny McDonald (2002 – Current)
Danny's first solo release, 'Rock & roll records' was released on 7" vinyl by French label Pop The Balloon Records in 2002. His follow-up CD EP, 'On the beach at first light' was released in the same year through the same label.
In 2003, Danny released his first full-length solo album 'Summer city' through Zip Records USA, MGM (Australia) and Wizard in Vinyl (Japan), showcasing Danny's unique slant on jangle guitar pop and lyrical fixation with Australian surf culture. The album was inspired and named after the 1977 film of the same name, produced by Phil Avalon.
His second full-length album 'Fibrotones' was released in 2005 by Off The Hip Records. 'Fibrotones' was a more eclectic release melding elements of garage rock & roll, power pop, acoustic folk and surf instrumental. It also featured a host of guest appearances from Melbourne luminaries including Ash Naylor (Even, Paul Kelly, Rockwiz), Paul Thomas (Huxton Creepers, Weddings Parties Anything), Mick Baty (Off The Hip Records, Pyramidiacs, Crusaders) and Ian Wettenhall (Philistines, Freeloaders, Hands of Time).
Danny's third full-length album 'Last man's tucker', recorded completely acoustically, was released independently in 2007 and was later followed by a series of digital-only releases including 'In Melbourne tonight' (2010), 'Suburban interiors (2014) and 'The Melbourne divide' (2015).
His most recent EP 'Modern architecture' was released on vinyl, CD and digitally through Popboomerang Records in February 2020. Leading with the singles 'Cordyline' and 'The suburb I grew up in' (with Anna Burley of much-loved Melbourne band the Killjoys), 'Modern architecture' was McDonald's first collaboration with producer Craig Pilkington (also of the Killjoys), showcasing the work of a master songwriter in his prime.
P76 (1998 – 2002)
Danny formed the band P76 in early 1998 from the ashes of Jericho.
Following a series of lineup shuffles, the debut P76 EP 'Life in general'—recorded by legendary producer Wayne Connolly (You Am I, Custard, The Vines) was released through Blah Blah Blah distribution in 1998 and quickly sold out of its first and only pressing.
In 2000, P76 signed to USA-based label Zip Records and released their second EP 'Sunliner' and toured nationally to support its release. The band recorded a live session for the Triple J's now defunct Australian Music Show, with Andy Strachan from the Living End sitting in on drums for Geoff Barnes.
P76 released its debut full-length album Into the Sun in late 2001 to critical acclaim all around the world. Produced by legendary Australian pop singer/songwriter Dom Mariani (The Stems, DM3) 'Into the sun' garnered rave reviews and made its way onto may top 10 lists around the world, going on to sell strongly with licensing deals in the USA, Japan, Brazil and Sweden.
The first radio single from Into the Sun titled 'Me & her, the road and our EJ' was picked up quickly by national youth broadcaster Triple J and received extensive airplay during spring and summer 2001. The follow-up, 'Sleeping in' also received strong radio attention from Triple J and commercial stations including Nova and MMM.
P76 entered an indefinite hiatus in 2002, reconvening in 2013 for two Victorian shows and again in 2017 with a Victorian tour and their first recorded output in 16 years.
Jericho (1995 – 1998)
Danny's first foray into the Melbourne music scene was with the band Jericho in 1995.
Jericho established themselves quickly on the inner-city scene playing regularly at venues like the legendary Punters Club, Evelyn and Public Bar.
The release of their self-titled debut EP in March 1996 marked the beginning of a near-constant touring schedule which continued for the ensuring two years travelling up and down the east coast of Australia with bands of the day like The Hoodoo Gurus, Beasts of Bourbon, The Fauves, The Earthmen, Snout, Screamfeeder, Bluebottle Kiss and 78 Saab.
Within six months of their debut EP, Jericho signed to Mushroom Records subsidiary MDS and release three subsequent EP's through the label and a limited-edition cassette recorded live for Triple J, before disbanding in early 1998.
In 2003, Melbourne label Popboomerang Records released a posthumous retrospective CD compiling most of the bands' recorded output including tracks from their four EPs an unreleased tracks. The band also reformed to headline the 2016 'Melbourne divide' show at the Yarra Hotel in Melbourne, curated by Popboomerang records for the City of Yarra Leaps and Bounds festival and named after the song of the same name released by Danny McDonald as a solo single.
Other projects
Casual studio appearances (2001-current)
Danny has contributed vocals, guitar and songwriting to several other Australian releases with artists including The Pants Collective with Andy Strachan of The Living End, Superscope, Joe Algeri and Prettymess.
Little Murders (2014-2020)
Danny was a member of seminal Australian post-punk outfit Little Murders between 2014 and 2020, playing guitar and backing vocals on their albums Hi-Fab and Dromanarama (Off The Hip) and performing live regularly with the band around Melbourne.
Stoneage Hearts (2001-2002)
Danny was a founding member of Australian garage rock & roll band The Stoneage Hearts. He contributed vocals, guitars and helped write their debut album 'Turn on' (Off The Hip) in 2001 and two 7" vinyl singles including Suzie (Butterfly Records, Spain) in 2001 and Stephanie (Pop The Balloon, France) in 2002. Danny left Stoneage Hearts in 2002 and was replaced soon after by Dom Mariani (The Stems DM3).
Oscarlima (1999-2000)
Danny toured Australia with well-known Australian band Oscarlima in the late 1990s for around 18 months, around the release of their debut album 'Desert caravan' and Triple J favourite 'If you wanna be my friend' (Rubber Records/BMG).
As the fourth casual member playing guitar, keyboards and backing vocals, Danny joined the band on several national tours with highlights including appearances at the Livid Festival (Brisbane) and popular TV shows Hey, hey it's Saturday and Rove.